Rematch Part 1: The Muscle Bitch  
Max returns to his dungeon to find his defeated opponent from his last match awaiting him. Grant Carpenter, chained to the ceiling, his face and head covered, he is completely stripped of his identity and his cockiness this time. Nothing but a toy for the massive musclegod, Max.

Max verbally dresses down his victim, reveling in his helplessness. He tell him how much rage and anger he has built up, and that he plans to release all his aggression. Tormenting poor Grant by forcing his face into his massive muscled armpit, Max even bearhugs Grant while he is still chained to the ceiling, threatening to just break his ribs right there.

But Max wants to play with Grant first, draw out his pain and suffering. So he unchains him, and begins to subject him to multiple, long, drawn out wrestling holds. Crushing him in bearhugs and body scissors, and twisting him out of shape in camel clutches, this isn't a wrestling match, it's just a long, brutal domination...
Showering Pumped Up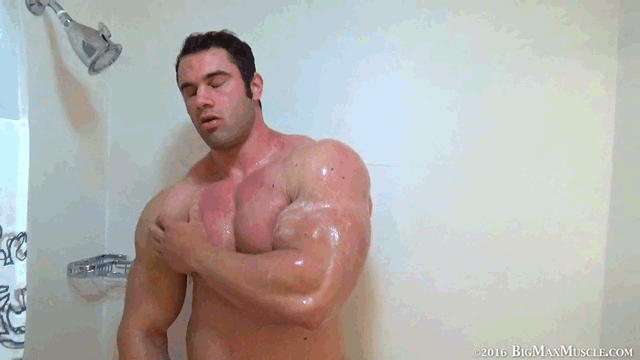 A sweaty, post-workout Max gets ready to cleanse his massive body with a long, hot shower. He talks directly to the camera about the muscle that he's washing off, inviting the viewer to get intimate with his body. He invites us to even come in close and get truly lost in his size and power.

Once he starts soaping up, the glistening suds pick up every curve and bulge of Max's flesh. Max gets so into his own body, he even starts playing with his soaped up nipples. As we see him start to wash his huge bubble butt, his hand almost gets lost up there.

The water dripping off his body, Max lets us just watch him as he cleans off the sweat  and stink of his long, hard day of workouts and muscle worship.
Ultimate Worship Part 2  
Laying on the bed now, Max is totally exposed and glorious. His worshipper goes to town on his body, burying his face and tongue in every nook and cranny. He even gets to stroke Max's thick muscle cock. As Max lays there, flexing effortlessly, the scene is overlaid with other muscle posing from Max.

Max gets lost in the ecstasy of muscle worship, as his worshipper continues to service him. Finally flipping on his front, we get to see his glorious muscle ass, oiled up and massaged. Truly an amazing sight!
Ultimate Worship Part 1  
A lucky muscle devotee is given permission by Max the Musclegod, to worship and adore his massive physique. Max is looking huge and ripped, and is totally on display and naked, so proud and cocky, he looks at totally at ease being exposed liek this. As the admirer buries his face into Max biceps and kisses them, you can see the look on Max's face. He is happy and satisfied to be worshipped this way. He knows how good he looks and how fitting it is that he should be adored this way.

As the worship continues, we get to see every angle of Max's bulging and massive frame. His sexual energy pulses out from his flexing muscles, and his worshipper is clearly caught in the thrall of this incredible Alpha Male. Getting out the oil, Max tells him that he will be worshipping him all day. Once his skin is glistening with the oil, we can see in even greater detail just how beautiful and perfect his phsyqiue is. From his rock hard pecs, to his massive 22" guns, right down to his big, bulging muscle butt.

Get ready for things to get even hotter and raunchier in part 2...