Massive Muscle Massaged  
Sometimes, even the powerful, dominating force of a god like Max, needs to relax and gets treated like the object of worship that he is. This long, detailed video lets us see every inch of Max, as he is covered in oil and rubbed down by an unseen slave. His huge body in close up detail, smothered in oil.

A long slow sensual process, the viewer can get lost in everything from the sight, to imagining the smell and feel of such an awesome body, and the time it takes to rub it down. Perfect watching for the muscle obsessive!
Rematch Part 3: Sexual Play Toy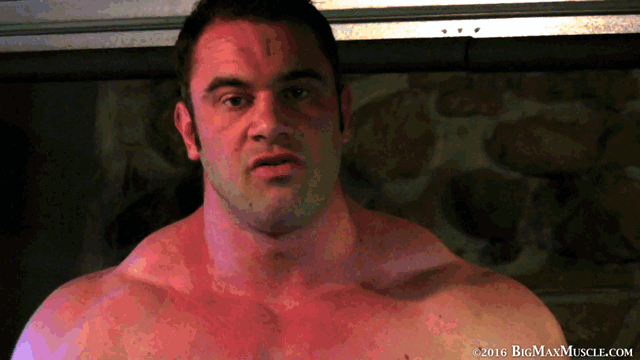 Big Max, now wearing just posers, returns to his dungeon to find Grant still out-for-the-count, having been squeezed unconscious in Max's massive 22" arms in Part 2. Disappointed that his favorite little toy is broken Max decides that, despite Grant being limp and lifeless, he is still going to use him to get himself off. Dragging him around the mats, he throws his plaything onto his back and mounts him.

Grinding up again him cock to cock, Max's massive body overshadows his smaller victim, their bulging packages pressing against one another. Max begins to hump Grant, the sheer power and mass of his body pounding him into the floor. But Grant barely even stirs, the damage done to him too much to overcome.

So Max stands over Grant, strips down naked, and works his beautiful dick for the camera. For several ecstatic minutes, he pumps his shaft, Max's muscle rippling as he does so. Don't miss the explosive climax of this incredible video!
Rematch Part 2: Wrestle Torture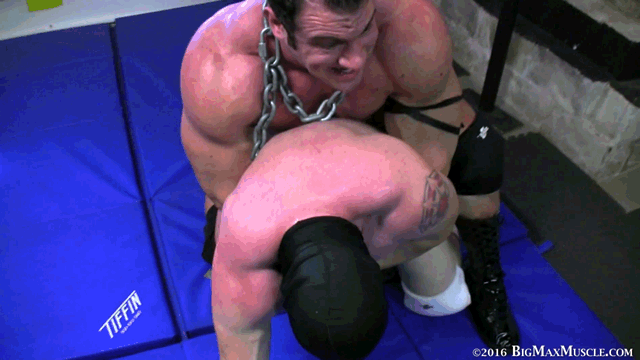 Big Max still seething with rage, unleashes all manner of hell on his poor victim. Grant is cowed into low groans, too scared of Max's wrath to even try and submit or beg. Twisting Grant up into choking camel clutches and Boston crabs, Max is brutal and relentless. This is no wrestling match, this is nothing but a total beat down!

Max scissors Grant's head between his massive legs, and we watch quads that are bigger and heavier than any mans, put so much pressure on the poor muscle bitch's skull that it's a wonder he doesn't pass out from the pain.

Max then decides to be generous, and gives Grant an opportunity to regain his dignity. He gives him a free shot, any hold he wants. Grants opts for a fig-4 leg lock, but Max just laughs at the little guys attempts to hurt his massive, powerful body. Quickly reversing the hold, Max then grabs Grant in a gut-wrench bear hug. Unable to take it anymore, Grant passes out, crushed and squeezed to unconsciousness by 22" arms.

But even after knocking out his victim, Max isn't done yet....